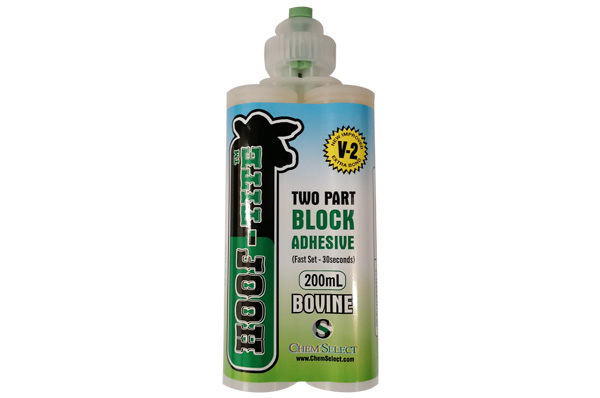 Hoof-Tite Original glue
200 ml
Two components adhesive
Can be used all-year
Sets within 30 sec.
Product characteristic
Easy and quick application
The Hoof-Tite Original is a two-component adhesive developed for hoof trimming. The adhensive is quick and easy to apply. One cartridge is enough for 8 to 10 glue applications depending on the hoof size.
Fast-setting
The glue sets within 30 seconds, and after about 2-3 minutes the animal can walk on the hoof block. To achieve a properly fastening the hoof must be carefully dried. The storage temperature should not be below 5 °C because then the adhesive may lose its properties. It is optimal to store the adhesive at a temperature of about 25 ° C. The adhesive can be used both in the summer and the winter.
Perfect for all types of blocks
Hoof-Tite Original is the perfect solution for both wooden blocks and rubber blocks. The use of two-component Hoof-Tite glue ensures that the block will remain in place.
In our offer you will also find a dispenser gun and mixing tips for Hoof-Tite Original glue.
Further information
How to apply the adhesive correctly
The adhesive should be placed in the application gun. Remove the glue cap and fit a mixing tip to mix the two components. Adjust the cartridge with the adhesive by setting it straight up, and then squeeze the dispenser to remove air before applying.
Then remove the small amount of glue that has appeared, so that the two components mix best together.
Now you can apply adhensive to the prepared block, which will then be placed quickly on the cleaned and dried hoof. We recommend using a hot air gun to dry the hoof.
After about 30 seconds, the glue will have set, and after 2-3 minutes the animal can walk on the hoof again. The mixing tip should remain on the cartridge until the adhesive is needed again. Only then change the mixing tip to a new one.
It is very important the hoof is properly prepared before the block is set to get a good fixing. The hoof must be cut so that it has a rough surface, thanks to which the grip will be better.
Dry the hoof. Do not push the hoof block hard otherwise adhensive can be squeezed out and the layer of adhensive beween hoof and hoof block will be too thin to make the hoof block fix optimally.