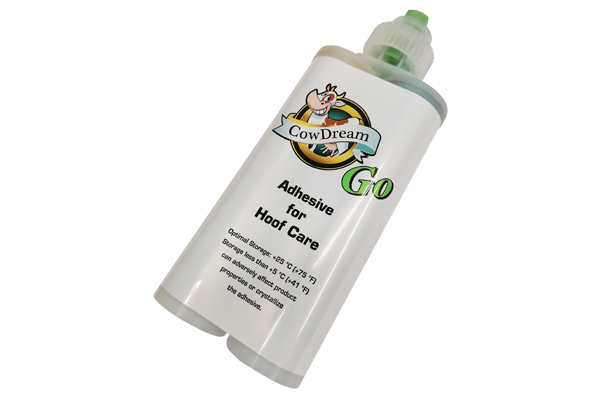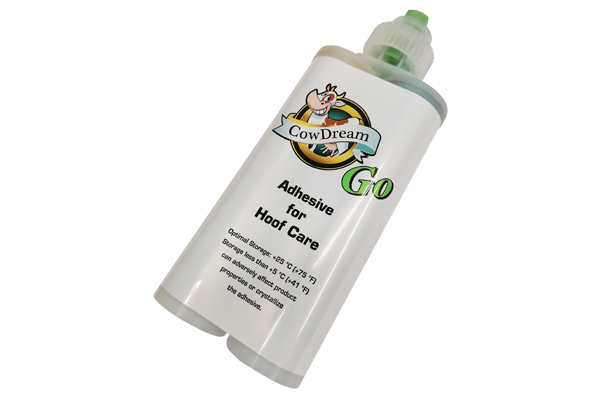 CowDream GO glue 200 ml
200 ml
2-component glue
All-year glue
Especially suitable for temperatures below 11° celcius
Extremly fast setting
Recommended used together with CowDream mixingtip (1003846KVK)
Setting within 30 seconds
Product characteristics
The CowDream GO hoof glue has been developed especially for KVK and on the basis of KVK's many years of experience with hoof trimming. The hoof glue does of cource meet the the values of KVK as well as the ofher KVK products. The glue is a high quality product and is extremly fast-setting.
Easy and quick application
CowDream GO hoof glue is easy and quick to apply on the hoof with a CowDream mixertip.
All-year glue
Especially usable by temperatures below 11°, but the CowDream GO can be used all-year you just have to be aware that the optimum storage temperature is 25° and that the temperature should not be below 5°.
Fast-setting
The hoof glue CowDream GO is extremly fast-setting. The needs less than 30 seconds to set and with 2-3 minutter the animal can already walk on the leg. To provide optimum setting the hoof has to be carefully dried before the block is glued.
Perfect for all types of blocks
CowDream GO hoof glue is useable for wood as weel as rubber blocks. The use of a 2-component glue provides high safety when it comes to fastening.
We do also offer CowDream adhesive gun and mixing tips for hoof glue.
Further information
How to apply the CowDream GO adhesive correctly
The adhesive should be placed in the application gun. Then remove the glue plug and place a mixing tip in its place, which will allow us to mix the glue components. Now align the cartridge with the adhesive by setting it straight up, and then squeeze the gun handle to apply to remove air.
Then remove the small amount of glue that has appeared, so that the two components mix best together. Now you can apply glue to the prepared block, which will then be placed quickly on the cleaned and dried hoof. We recommend using a hot air gun to dry the hoof.
In less than 30 seconds, the glue will have set, and after 2-3 minutes the hoof will be able to bear the weight of the animal again. The mixing tip should remain on the cartridge until the adhesive is needed again. Only then change the mixing tip to a new one.
It is very important for good adhesion of the glue that the hoofs are properly prepared for this treatment. It must be cleaned and dried. The claw can be cut so that it has a rough surface, thanks to which the grip will be better.
Pressing the block smeared with glue can not do it with too much force because then too much glue can flow out and between the hoof and the block its layer will be too thin.
Safety
click for more info