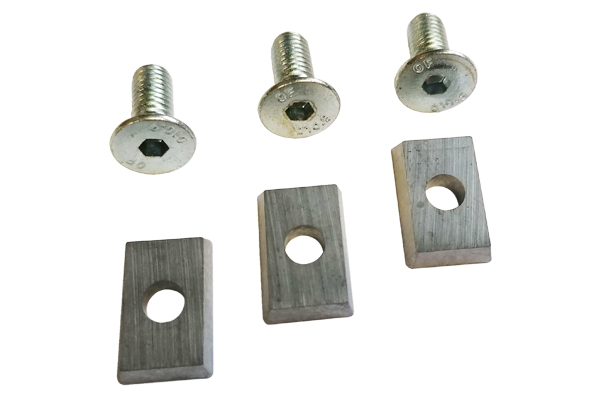 Blade set for 3-cut and 6-cut (3 blades per set)
3pcs blades per set
Double-sided
For 3-cut and 6-cut discs
Precise cut
Easy and quick change of blades
Product characterisctics
Easy to replace
Changing the blades is very simple and quick. We don't have to waste precious time changing blades.
Double-sided blades
The blades are double-sided, thanks to which, after one side is blunted, the blade can be turned to the other side and continue working efficiently. When worn on both sides, the blades can be replaced with new ones. Each blade can be changed individually and very quickly thanks to the quick-release screw connection.
Clean and precise cut
Working with these blades ensures a clean and precise cut of the hoof, and therefor there is no need for additional processing.
The oblique angle of the cutting elements
The oblique angle of the cutting elements provides at better cutting ability as well as a longer durability. Specially designed for the correction of hooves in cattle.
Further information
Adventages
The set of double-sided blades is ideal for aluminum trimming discs with three or six blades. They ensure comfortable operation and fast work. The double-sided, replaceable blades allows the use of the disc for a long period of time. They offer clean, precise cuts that do not require additional processing. A set of blades of high quality.
In our webshop you can also find 3-cut and 6-cut aluminium discs.