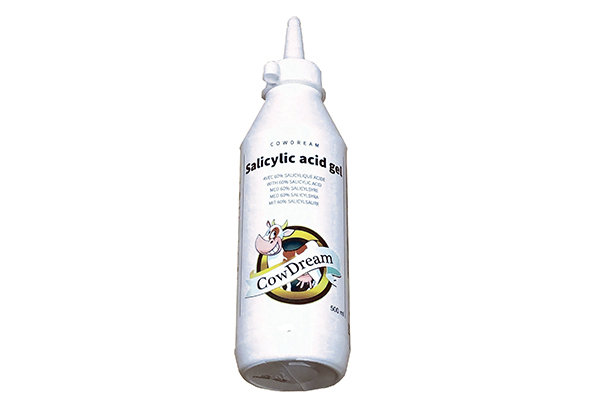 CowDream Hoof gel 60%
Safe in use
Easy to dose
500 ml
60% pharmaceutical salicylic acid
Pain relief
Eliminates swelling and inflammation
Product characteristic
Safe in use
Thanks to its consistency, the gel is safe to use for animals and hoof corrector. It is very effective against digital dermatitis, limax and other similar hoof diseases in cattle.
Easy to dose
The packaging in which the gel is located has an optimal shape thanks to which it is easily held in the hand, a bottle made of a material that is easy to squeeze and precisely dispense the product to the diseased place. The tip allows you to apply the gel exactly where you need it.
60% salicylic acid
The gel in its composition has 60% pharmaceutical salicylic acid, thanks to which, when applied to the affected place, the acid helps the skin shed dead epidermis from the upper layer. In addition, it reduces redness, swelling and inflammation.
Pain relief
The gel works quickly and effectively, reduces swelling, eliminates swelling, cleanses, and above all analgesic.
Further information
How to apply
Carefully prepare the affected area by washing thoroughly with a warm soap solution, and then dry the surface on which the CowDream hoof gel is to be applied. Apply the gel to the area to be treated, then apply cotton wool and a bandage that will retain dirt and water.
After a maximum of 48 hours, check the dressing and replace if necessary. After about 5-7 days, remove the dressing and rub the wound. If necessary, wear a new bandage. Cotton wool and bandage should be well-ventilated because oxygen in the surrounding air has a positive effect on the healing of the affected area. The gel quickly removes pain and disinfects the wound. Brings excellent results and cares for the skin in a balanced way. The gel is very easy to dispense thanks to the soft plastic bottle combined with the dispensing opening. Due to its consistency, it sticks directly to the treated surface. It is best to store the gel with the cap down because it prevents the gel from flowing faster during use. When opening a new bottle, do not cut the cap too short, otherwise the lid will not hold properly and will not protect the hole. The product has a very long shelf life, but should not be stored too high or too low temperatures.
In our offer we also have CowDream hoof gel 38% with Aloe vera.
Safety
click for more info